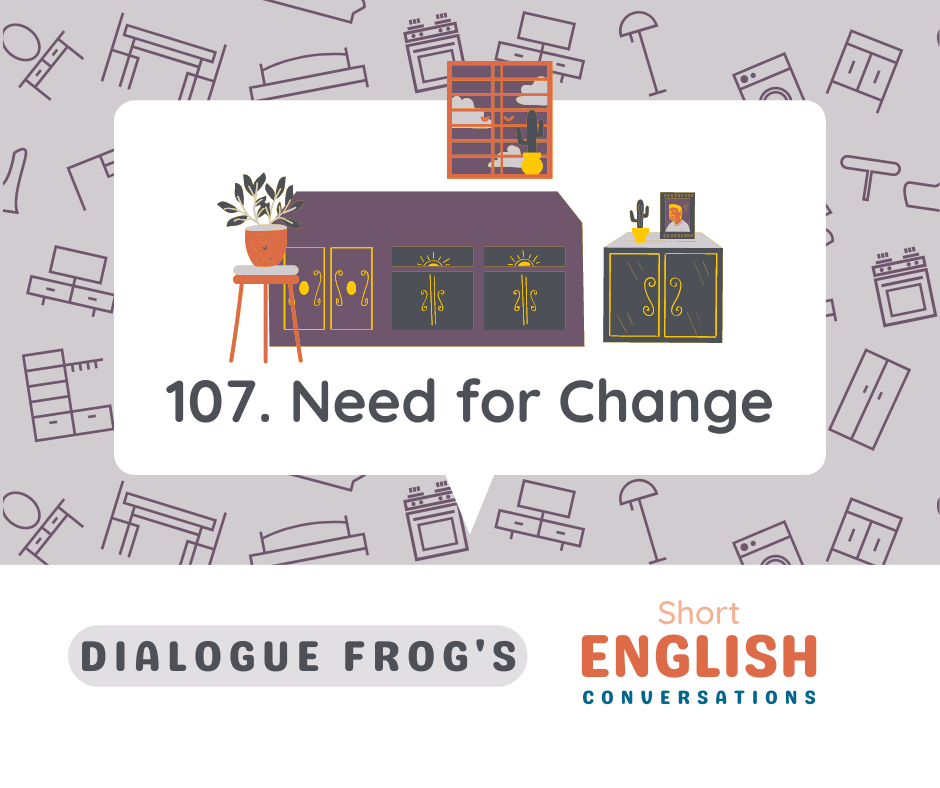 Short Dialogues | Need for Change | 107
In this short dialogue, Emma and Luke talk about Emma's need for change with the warm weather. 
To listen, press the play button in the streaming audio player below.
Transcript

Vocabulary List
Short Dialogue Transcript
Emma (00:02):
Welcome to Dialogue Frog's short dialogues. Something very boring happened to me. It's really weird to begin a story that way, but something boring happened to me.
Luke (00:13):
Did you count sheep to fall asleep and then you realized that it was actually goats?
Emma (00:23):
No! Not even close. I'm sorry.
Luke (00:25):
Okay.
Emma (00:26):
I cleaned my room, but I got rid of some furniture. So now I have like more space and I'm really excited about it.
Luke (00:32):
Very nice.
Emma (00:33):
Like when it's, when the weather gets warm or something, sometimes you get this urge to have change in your life. And so sometimes for me, at least, like if I change the furniture in my room then I kind of fill that need of change in my life. And so, in this case, I was able to get rid of a big shelf unit and actually gave it to Rachel. She wanted it. And so, I gave Rachel my big shelf unit and I was able to put my chair in there. And so now I have this really cozy place for doing work or reading. I love it.
Luke (01:07):
Very nice.
Emma (01:09):
All right. Well, oh, did you have something else to say?
Luke (01:12):
Oh, I was just gonna say when I want change, usually what I do is go to the bank, give 'em a dollar bill and say, "Hey."
Emma (01:22):
That's a different kind of change.
Luke (01:24):
Oh yeah?
Emma (01:24):
Yeah. But I'm glad that works for you.
Luke (01:28):
Hm. Thank you.
Emma (01:31):
All right. Well, this has been another short dialogue in English with Dialogue Frog. For more short dialogues, please visit our website dialoguefrog.com.
Short Dialogue Vocabulary List
boring
happened
really
weird
begin
story
way
count
sheep
fall asleep
realized
actually
goats
not even close
cleaned
room
rid
got rid of
furniture
space
excited
about
very nice
weather
gets
warm
urge
change
life
fill
need
case
in this case
able
shelf
unit
gave
wanted
chair
cozy
place
work
reading
love
I love it.
else
something else
say
I was just gonna...
bank
'em
dollar bill
different
kind
Oh yeah?
glad
works